It's been books aplenty, books galore at my house this month as my desk is piled high with research reading. Fortunately, in between learning about Ziegfeld girls and prohibition, I managed to squeeze in four awesome – and I mean awesome – fiction.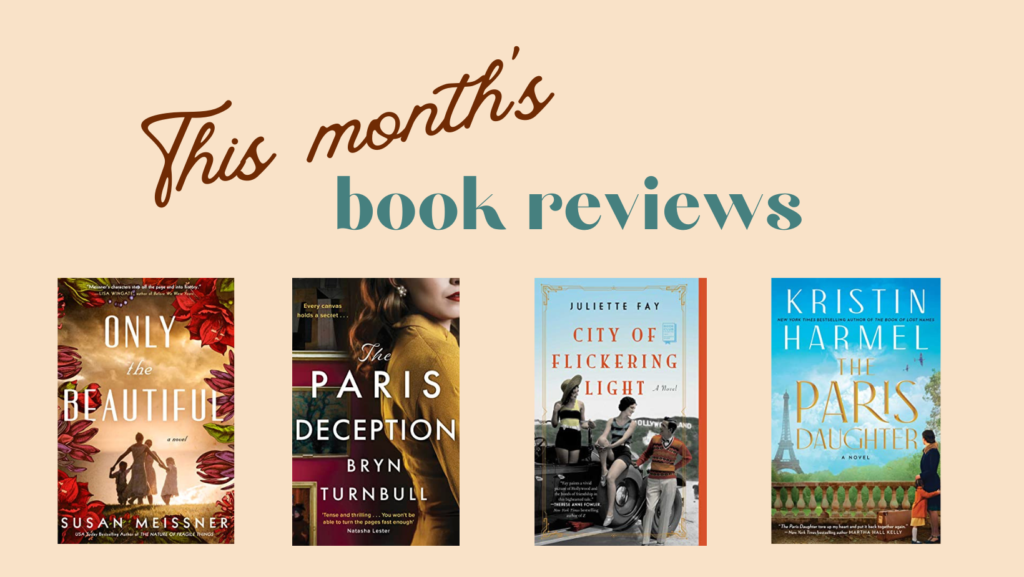 Only the Beautiful by Susan Meissner
Susan Meissner might be one of the smartest historical fiction writers on the market today, and Only the Beautiful is proof. It might be as close to perfect as a book can get. The first half of the book tells the story of Roseanne, a 16-year-old unwed mother struggling to keep her unborn child, while the second half is about Helen, a nanny who's returned to the US after witnessing the atrocities of Nazi Germany. Through their stories, she recounts her dark history of the eugenics movement that gripped both Germany and America. Eugenics, for those who don't know, was the practice of purifying genetics through forced sterilization, and imprisonment. It was practiced in the US until as late as the 1960s.
I have never been as emotionally invested in a book as I was in this one. Both Donna Jones Alward and I gushed over it on Step into the Story earlier this month. Put this one on the top of your TBR pile.
Susan's Website: https://susanmeissner.com
Buy links: Amazon: bit.ly/3qskYxg
Barnes & Noble: bit.ly/43kMsU6
Bookshop.org: bit.ly/3MOSJk1
The City of Flickering Lights by Juliette Fay
After Susan's heavy read, I needed something fun, and The City of Flickering Lights was just what the doctor ordered. Juliette's tale of early Hollywood unfolds like a pre-Code movie complete with sex, scandal, and snappy dialogue. 
The story follows ex-burlesque performers, Irene, Millie, and Henry, who leave their past behind and head to Hollywood in search of fame. On their way to success, the trio must deal with tragedy, love, and loss. Fay does a good job of portraying the financial hardships that come with chasing your dream as well as the prejudices and injustices of the age. Subplots involving sexual assault and homosexuality give the book extra depth.
The true theme of the book, however, is the power of friendship. It's t characters' bond that saves them from being destroyed by Hollywood's dark side. Fay's message at the end is very clear: no one makes it alone.

Connect with Juliette Fay: https://juliettefay.com
Amazon: bit.ly/45Id7Md
Barnes & Noble: bit.ly/45JHmCw

The Paris Deception by Bryn Turnbull
Readers might recall that I loved Bryn's book, The Last Grand Duchess so it's probably no surprise that I adored The Paris Deception as well.
Sophie and Fabienne are sisters-in-law estranged by grief. In Nazi-occupied Paris, the widowed Fabienne, an artist, ekes out an existence as a prostitute while Sophie works as an art restoration expert at the Jeu de Paume. The two women reunited over a shared desire to save plundered artwork from destruction. Using Fabienne's skills, they replace the art with forgeries with the hope of someday returning the originals to their Jewish owners.
This book taught me so much. The Nazis tried to purge the world of Modern and Impressionist art because they considered it deviant and lacking proper German values. It's the same argument they used to justify murdering the Jews and others. Turnbull deftly draws the parallel by having Fabienne struggle to save her Jewish employers at the same time Sophie struggles to save the plundered art. It's marvelously done.
Connect with Bryn Turnbull: https://brynturnbull.com
Bookshop.org: bit.ly/43uutdW
Amazon.com: bit.ly/3N5f4eq
Barnes & Noble.com: bit.ly/43l8GWm
The Paris Daughter by Kristin Harmel
Continuing the Paris theme is this story of motherhood, loss, and grief set during World War 2.  
Elise and Juliette are expectant mothers who meet and become fast friends in the shadows of Nazi occupation. When Elise's husband's politics forces her into hiding, she leaves her daughter with Juliette, knowing her best friend will protect the little girl with her life.
But during a war, there's no such thing as safety, and by the time Paris is liberated, both women have lost everything.
What makes a good mother? Is it the woman who leaves her child with strangers or the woman who keeps them close? How does a mother survive when her children are gone? These are some of the questions The Paris Daughter tries to answer. I'd say more, but it would spoil the book.
I will tell you that the actual plot is pretty predictable. You won't be surprised by any of the twists. However, that doesn't matter. I still inhaled my advanced readers' copy. The emotion of Juliette's and Elise's stories makes it impossible to break away.
The book comes out Tuesday, June 6th. Buy it.
Connect with Kristin Harmel: https://kristinharmel.com
Pre-Order Your Copy: bit.ly/3OMT1KL

Announcement
I'm on Substack! If you would like to receive my weekly posts in your mailbox, you can subscribe through its RSS feed. Click here to sign up.
In addition,
There will be no blog post next week. That's because I'll be at the Historical Novel Society's North American Conference in San Antonio. I'll be moderating a panel on mystery writing. If you're at the conference, find me and say hello.

The following week I'll be in Iceland! Again, that means no blog post.
I will be back on schedule on June 24th.